Back to Attorneys Search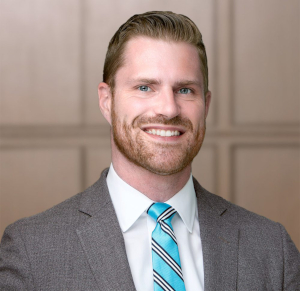 Thomas S. Ward is a partner with Rennert Vogel Mandler & Rodriguez, P.A. whose practice is focused on commercial litigation and appeals.  Tom's clients include, but are not limited to, real estate developers, board members, executives, officers, directors, title insurance companies, condominium associations, commercial landlords, entrepreneurs, and municipalities.
Tom is Board Certified by the Florida Bar as an Appellate Specialist. He has authored appellate briefs that have been filed in the United States Court of Appeals for the Eleventh Circuit, Florida's Supreme Court, and all five of Florida's District Courts of Appeal. He has also argued before the Eleventh Circuit in Atlanta and Florida's First, Third and Fourth District Courts of Appeal.  Accordingly, he has many published opinions to his credit.  Prior to entering private practice, Tom interned for the former Chief Justice of the Florida Supreme Court: the Honorable R. Fred Lewis.
One thing that separates Tom from many other appellate attorneys is his vast, hands-on experience as a trial lawyer.  Tom has successfully first-chaired trials, argued dispositive hearings (evidentiary and otherwise), and taken depositions.  Tom's litigation experience in state and federal courts includes, but is not limited to, serving as lead counsel for contract and construction disputes, director and officer liability insurance claims, title insurance claims, real estate broker disputes, eminent domain proceedings, commercial and residential evictions, and foreclosures, violations of non-compete agreements, collections, disputes involving condominium associations, and ad valorem property tax challenges.  Tom also has class action experience representing plaintiffs and defendants both at the trial and appellate levels.
Despite managing a busy practice, Tom has made it a point throughout his career to take on pro bono work. Whether through Jacksonville Area Legal Aid or the Guardian ad Litem Program's Defending Best Interests Project, the combined number of pro bono appeals throughout Florida that Tom has handled are in the double digits.

Areas of Concentration
Appellate Law
Commercial Litigation
Business Litigation
Real Estate Law
Construction Law
Contracts
Evictions (Commercial & Residential)
Ten Representative Reported Decisions
Judd v. 9701 Collins Avenue, LLC, 284 So. 3d 1039 (Fla. 3d DCA 2019) (Affirming summary judgment, which determined that developer of The St. Regis Resort and Residences Bal Harbor was entitled to retain an approximately $1,000,000.00 real estate deposit and recover prevailing party attorneys' fees from a defaulting purchaser)
Jahangiri v. 1830 North Bayshore, LLC, 253 So. 3d 699 (Fla. 3d DCA 2018) (Affirming summary judgment, which determined the commercial lease renewal term "at the then prevailing market rate for comparable commercial office properties" is unenforceable as a matter of law because its procedure to determine rent for the renewal period is too indefinite)
The City of Coral Gables v. Garcia, 2018 WL 4904915 (Fla. 3d DCA 2018) (Holding that the City of Coral Gables had standing to appeal an order denying its motion to intervene in an ad valorem property tax lawsuit wherein Miami-Dade County Property Appraiser's sought to reinstate its initial $81,000,000.00 assessment of The Shops at Merrick Park's improvements)
Williams Island Ventures, LLC, et al. v. Marcus Saiz De la Mora as Miami-Dade County Tax Collector, 246 So. 3d 471 (Fla. 3d DCA 2018) (Reversing order dismissing Miami-Dade County taxpayers' class action complaint with prejudice and interpreting Florida statutes to entitle class of approximately 24,000 taxpayers to recover interest on all overpaid ad valorem property taxes that were initially paid in connection with the commencement of their property tax appeals, which subsequently led to the creation of a $10,080,846.80 common fund for the class)
Banner v. Law Office of David J. Stern, P.A., 212 So. 3d 370 (Fla. 4th DCA 2016) (Affirming summary judgment ruling in favor of defendant law firm and its managing partner, which defeated the approximately 3,000 class members' Florida Deceptive and Unfair Trade Practices Act claim directed to law firm's preparation and mailing of reinstatement letters to borrowers on behalf of the law firm's lender client during pending mortgage foreclosure actions)
Sieber v. Gil, 193 So. 3d 27 (Fla. 3d DCA 2016) (Reversing order prematurely authorizing the disbursement of tenant-in-common's share of partition sale proceeds to her opponent and his lawyer to satisfy their attorneys' fees while her counterclaims remained pending)
Rendon v. Fortune Int'l. Realty, Inc., 117 So. 3d 1100 (Fla. 3d DCA 2013) (Affirming order granting real estate developer defendants' motion for sanctions against plaintiff, including the dismissal of his pleading—which sought over $3.5 million in damages—with prejudice)
Ferraro Law Firm, P.A. v. Paradigm Interiors, Inc., 56 So. 3d 11 (Fla. 3d DCA 2011) (Affirming final judgment and jury verdict in favor of interior designer firm and against law firm on claims for breach of contract and open account)
Vicente v. Bank of America, N.A., 53 So. 3d 1042 (Fla. 3d DCA 2011) (Affirming lender's $2.6 million foreclosure judgment and corresponding summary judgment order defeating competing lender's claims to establish a superior $575,000.00 equitable lien on real property in the Florida Keys)
CRC 1803, LLC v. North Carillon, LLC, 26 So. 3d 18 (Fla. 3d DCA 2009) (Affirming order granting real estate developer's motion to dismiss pre-construction condominium unit purchaser's complaint with prejudice)
Certifications
Florida Bar Board Certified Specialist in Appellate Practice
Recognitions and Awards
Martindale-Hubbell, AV Peer-Review Rated
America's Top 100 Bet-The-Company Litigators – Southern Florida
Super Lawyers' "Super Lawyer" – Appellate
Florida Trend's "Florida Legal Elite" –

Appellate

South Florida Legal Guide's "Top Up and Comers" – Appellate
Appointments
The Florida Bar's Appellate Court Rules Committee
– Vice Chair of Committee: (2018-20)
– Chair of Civil Subcommittee: (2017-19)
Appellate Practice Section of the Florida Bar
– Executive Council Member (2014-17)
– Outreach Committee Chair (2014-17)
Other Leadership Positions
Third District Court of Appeal Historical Society
– President (2021)
Eleventh Circuit Grievance Committee
– Chair (2014-16)
Organizations
Appellate Practice Section of the Florida Bar – Pro Bono Committee, Member
The Rosemary Barkett Appellate American Inn of Court, Member
The Spellman-Hoeveler American Inn of Court, Member
The Federalist Society, Member
Miami Catholic Lawyers Guild, Member
American Bar Association, Member
Relevant Internships
Supreme Court of Florida
– Interned for the Honorable R. Fred Lewis
Education
University of Miami School of Law, Juris Doctorate, cum laude
– Articles Editor of the International and Comparative Law Review
University of Illinois at Urbana-Champaign, Bachelor of Science in Journalism
Areas of Concentration
Appellate Law
Commercial Litigation
Business Litigation
Real Estate Law
Construction Law
Contracts
Evictions (Commercial & Residential)